During this year's Rama Navami, let us go back in history and get a glimpse where Lord Ramachandra performed His pastimes, as recorded in Valmiki Ramayana.

Lord Rama, Sitadevi and Lakshmana in the forest
The Supreme Lord descended as Sri Ramachandra in Treta-yuga in order to deliver the pious and to annihilate the miscreants, as well as to re-establish the principles of religion. Lord Ramachandra exemplified the characteristics of an ideal king for maintaining and protecting the highest culture of humanity. His exalted qualities and activities are always sung and relished by His devotees.
The great epic Ramayana narrates how Lord Rama was sent to the forest by His father Maharaja Dasharatha. Demonstrating the behaviour of an ideal son, the Lord left for the forest obeying the order of His father, just when He was to be coronated as the king of Ayodhya.
The Lord along with His consort Sitadevi and younger brother Lakshmana entered the Dandakaranya forest to be in exile there for fourteen years. During their stay in the forest, Sitadevi was kidnapped by the demon Ravana, the King of Lanka. The Ramayana narrates the journey of Rama to Lanka in search of Sitadevi.

NASA satellite photo: The remains of the Rama Setu
There are hundreds of ancient monuments along the route that Sri Rama had taken from Ayodhya to Lanka and bear testimony to His presence even to this day. A photograph by the US Space Agency shows the remains of the 'Setu' (bridge) that He built between India and Sri Lanka. Sri Rama's temples abound in every nook and corner of not only India but also in the whole of Aryavart of yore, which included Indonesia, Thailand, Cambodia, etc.
Several of the events mentioned in the Valmiki Ramayana have been authenticated by recent archaeological findings. His presence dates back to 9323 years as per the astronomical configurations described by Sage Valmiki in his Ramayana.
Iruppu Falls 
Iruppu is a sacred spot in south Kodagu (Coorg) on the Brahmagiri range of hills. River Lakshmana-tirtha flows nearby. Rama and Lakshmana passed this way while searching for Rama's consort, Sita. Rama asked Lakshmana to fetch some drinking water for Him. Lakshmana shot an arrow into the Brahmagiri hills and brought into being River Lakshmanatirtha.
The river descends perpendicularly into a great cataract known as the Iruppu Falls. This place is believed to possess the power to cleanse one's sins and is visited by thousands of devotees from far and near on Shivaratri day. There is a temple dedicated to Sri Rama, surrounded by paddy fields, from where it is a climb up to the falls through a forest.
Ramanathapura Temple
At Ramanathapura, on the left bank of the Kaveri river, around 30 km from Kodagu, a huge rock looms out of the river. A Shiva temple stands on it. Known locally as Gogarbham, it is said that Sri Rama worshipped a shivalingam atop the rock to atone for the sin of killing Ravana.
In the village of Kattepura, which lies downstream, an ancient dam slows down the flow of the Kaveri. The dam, Jangamaghatte, was built 900 years ago by Jangamas or ascetics of the Lingayat sect. The stones, which are 1.2 m high, are precisely hewn and stacked. The river seeps slowly, almost wonderingly, through the stones as if Kaveri herself were amazed at this engineering feat achieved by a band of wandering holy men without the aid of modern technology.
The river cascades over a drop of 20 metres at Chunchanakatte (named after Chuncha, a tribal chieftain who built a dam here). The narrow gorge through which the Kaveri tumbles is called Dhanushkoti, after its better-known namesake at the southern tip of India. Sitadevi bathed in the river at this spot (named Siteya Bachchalu or Sita's Bathing Place) and there is a shrine built by the locals to commemorate the event. On the river bank is a large temple of Kodandarama.
Rameshwaram
There are four dhamas, or kingdoms of God, which are Badrinath, Jagannath Puri, Rameshwaram and Dwaraka. Rameshwaram is located at the southeastern end of the Indian Peninsula. Rameshwaram is on an island, which is in the shape of a conch shell, in the Gulf of Mannar. The island is sanctified by the footprints of Lord Rama. It is said that Lord Rama bathed at Dhanushkodi, where the Bay of Bengal and the Indian Ocean meet.
It is said that the Shiva-linga in the Ramanathaswami temple was installed by Sri Rama on His return to the mainland from the island of Lanka, after killing Ravana. Rama wanted to install a Shiva-linga in Rameshwaram to absolve Himself of the sin of killing Ravana, who was a Brahmin. Rama sent Hanuman to Mount Kailash to get the linga. Since Hanuman was late when the auspicious time for installation neared, Sita made a Shiva-linga out of sand. This linga was then installed by Rama and is known as the Rama-linga, because it was installed by Lord Rama.
At the time Hanuman came with the Shiva-linga from Mount Kailash, he was disappointed to find a linga already installed. Rama told Hanuman that he could remove the linga made by Sita and install the one he brought in its place.  Hanuman took hold of the linga with his hands and could not move it. He then wrapped his tail around it and tried to pull the linga out, but it did not move. The linga is said to still have the marks of Hanuman's tail on it. To pacify Hanuman, Rama had the linga he brought, the Vishwa-linga, installed alongside the Rama-linga. He ordered that puja (worship) be performed first to the Vishwa-linga, which is still being done today.
Gandhamadhana Parvatham 
This two-storied temple is on a small hilltop, about 2.5 km northwest of the Ramanathaswami Temple. There is a set of Lord Rama's footprints on a Chakra here and the small Ramjharoka Temple. There is a good view of the island from here. The place is called Vedaranyam. It is said that Hanuman made his great leap to Lanka from here.
Kothandaramswami Temple
There are Deities of Sri Rama, Sita, Lakshmana, Hanuman and Vibheeshana here. It is said that Vibheeshana, Ravana's brother, surrendered to Lord Rama at this place. A series of paintings inside the temple tells the story. In 1964, a cyclone wiped out everything in the surrounding area. The only thing left was the temple. It is located about 8 km from the southernmost tip of the island going toward Dhanushkodi.
Dhanushkodi
This is the place where the bay meets the ocean. Pilgrims are supposed to bathe in the small lagoon here called Ratnakara. This is a place to offer sraddha to the ancestors. It is especially auspicious to bathe here in May. Dhanushkodi is about 20 km southeast of Rameshwaram. It is said that Lord Ramachandra destroyed a small bridge with His bow here at the request of Vibheeshana.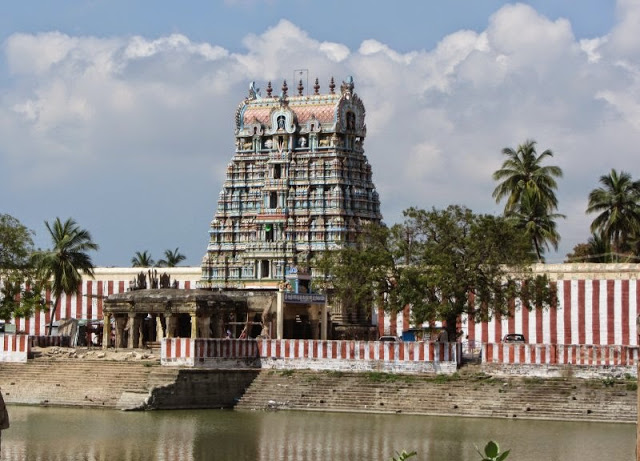 Darbha Sayanam and Adi Jagannatha Temple
Darbha Sayanam (Tirupallani, Pullanranyam) is where Sri Rama observed penance, lying on darbha grass here for three days. It is said that Adi Jagannatha appeared before Him, gave Him the weapon called Divya Chapa, and blessed Him with success.
Five km south of Darbha Sayanam at Adi Setu is the Adi Jagannatha Temple. The Deity of Sri Vishnu here is in a reclining posture on Sesha Naga. It is said that King Dasharatha, the father of Rama, came here to pray for a child, when all his wives were childless. Hindu couples still visit this temple to pray for children. The place where Lord Rama built His bridge is not far from here.
It is said that at the coastal town of Devi Patnam (Navapashanam) Lord Rama put nine stones standing upright in the shallow bay. They are supposed to represent the nine planets that He worshiped for success.
Other Places
There are many pastime places connected with the Ramayana in the area. There is a temple near the bridge that you cross to enter Rameshwaram where there is a floating rock. When Lord Rama went to Lanka with the monkey army, they crossed the ocean on a bridge of floating rocks. Near this temple, close to the bridge, are Lakshmana Teertham and Rama Teertham. Lord Rama is said to have bathed in these two tanks. Kodi Teertham is supposed to be a spring that Lord Rama created by shooting an arrow into the ground.
It is said that at Jata Teertham, Sri Rama washed His hair to get rid of any sins that He might have incurred in the battle at Lanka.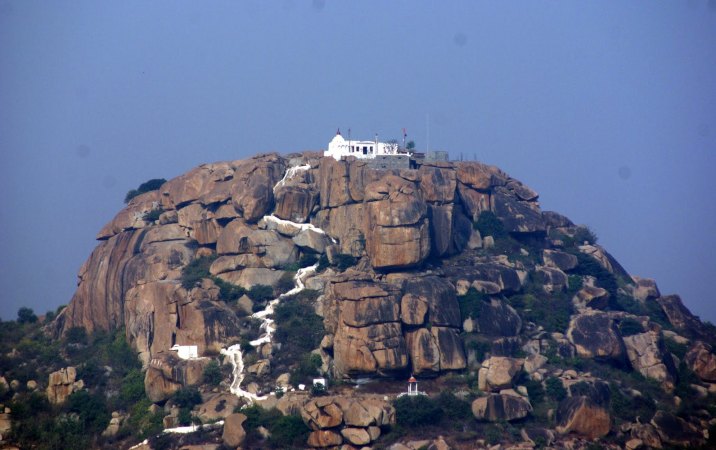 Kishkindha
The town of Anegundi, about 5 km from Hampi, is situated on the northern bank of the Tungabhadra River. Local people believe this to be the ancient place known as Kishkindha, where Rama met Hanuman and Sugriva. Also nearby Hampi is the Rsimukha Mountain mentioned in the Ramayana.
Kishkindha was ruled by monkey-chiefs – two brothers, Sugriva and Vali. After a quarrel with Vali, Sugriva along with Hanuman were driven out. They then went to stay at Matanga-parvata Hill. While searching for Sita, who had been kidnapped by Ravana, Rama and Lakshmana came south and met Sugriva and Hanuman. Rama killed Vali and restored the kingdom to Sugriva. While Hanuman went to search for Sita, it is said that Rama stayed at Malyavanta Hill, which is on the road to Kampili, about 6 km east of the Virupaksha Temple. There is a Ranganatha Temple here with a large Deity of Lord Rama.
On the way between Virupaksha Temple and Vitthala Temple there is a cave on the bank of the Tungabhadra river where Sugriva is said to have hidden Sita's jewels for safety. There are marks and streaks on the rocks, which are said to have been made by Sita's garments.
There is a huge mound of scorched ash in the nearby village of Nimbapuram that is said to be the cremated remains of Vali. The birthplace of Hanuman is said to be a little to the northwest.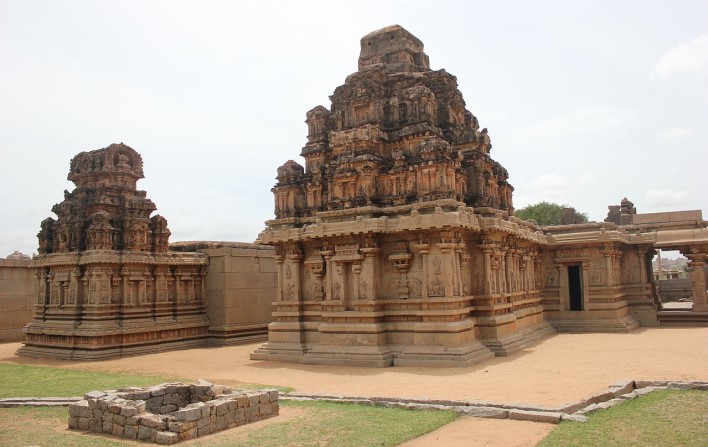 Hazara Rama temple
The Hazara Rama Temple (one thousand Ramas) is believed to have been a private temple for the royal family and was originally called Hajana Rama, which in Telugu means the "palace temple". It was originally dedicated to Lord Rama in the 15th century and contains many interesting sculptures of scenes from the Ramayana on the walls.
From the Virupaksha Temple of Lord Shiva along the path on the river bank toward the Vitthala Temple, there is a natural cavern marked with painted stripes where Sugriva is said to have hidden the jewels that Sita dropped after Ravana abducted her.
At the Kodandaram (bow-bearing Rama) Temple there are large Deities of Sita Rama and Lakshmana. It is opposite the bathing ghat. This is said to be the place where Rama crowned Sugriva as the monkey king.
The very ornate 16th century Vittala Temple is dedicated to Lord Vitthala, after the Deity in Pandharpur. It is on the southern bank of the Tungabhadra. It has musical pillars, which make different musical notes when struck. It is considered to be the most outstanding temple in Hampi.
The Virabhadra Temple is at Matanga Hill, where Lord Rama stayed.
Nasik
Nasik is a holy city located northeast of Mumbai (187km).  Lord Rama stayed here for some time during His exile and Sita was carried off by Ravana from this place. Nasik is on the banks of the Godavari river, which flows to the Bay of Bengal.  Lakshmana cut off the nose of Surnapaka, the younger sister of Ravana here.  That is why this place has the name Nasik.
The Rama Kunda area is the main pilgrimage place in Nasik.  This is where Rama and Sita used to bathe, so the tank is considered especially sacred.  It is also called Asthi Vilaya Tirtha (Bone Immersion Tank) because bones dropped here dissolve.  Lord Rama is said to have performed funeral rites in memory of His father, King Dasharatha.
Chitrakut
Lord Rama and Sita are said to have stayed in the forest here during Their 14 year exile.  Chitrakut is by the border of Uttar Pradesh and Madhya Pradesh, south of Lucknow. It is 132 km south of Allahabad. Lord Rama and Sita lived here for 11 years of Their 14 year exile. Chitra literally means "beautiful" and kut means "mountain" so it means "the beautiful mountain".
Bharat the brother of Rama came to Chitrakut and begged Rama to return to Ayodhya, but Rama would not disobey His father's order. Rama stayed on Kamadgiri, which means the hill which can fulfill all desires.
Lord Rama would daily bathe in the river here.  Sita's footprints are said to be on the rocks at Janaki Kund, where Sita took bath.
IN AND AROUND AYODHYA
Guptar Ghat
Gupta means disappearance. It is said that Lord Rama disappeared at this spot. The three temples in the area are called Gupta Harji, Chakra Harji Vishnu and the Raja Mandir. In the Chakra Harji Vishnu Temple there is an imprint of Lord Rama's feet.
Lakshman Ghat
This Ghat is situated on the bank of river Sarayu, named after Lakshmana. A Sahastradhara exists in its vicinity. It is believed that Lakshmana got reverted to his original divine nature at this place. There exists a small fort famous as Lakshmana Quila.
Ram Ghat
Ram Ghat situated on the bank of river Sarayu is also known as Ram Tirtha. According to Guru Vasishtha, whosoever bathes in the river Sarayu on Sri Rama Navami attains salvation. This is why the place is famous as Ram Tirtha.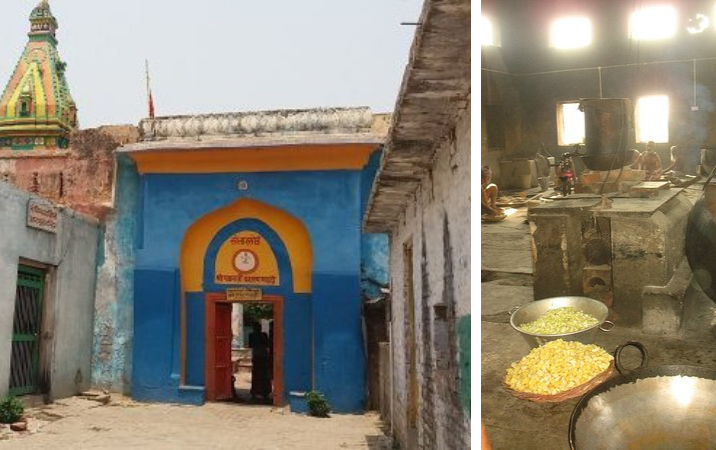 Sita Ki Rasoi
Sita Ki Rasoi is situated near north-western corner of Janmasthan in Ramkot ward. In this temple, deities of the four brothers Rama, Lakshmana, Bharata and Shatrughna along with their wives Sita, Urmila, Mandavi and Shrutikirti is installed. It is believed that after being married to Lord Rama, Sita cooked meals for Her family for the first time at this very place. Symbolic kitchen utensils are a point of attraction to the tourists.
Kausalya Bhawan
According to ancient beliefs, this building was constructed as a palace for Kausalya, the mother of Lord Rama.
Kanak Bhawan
Kanak Bhawan is one of the important temples in Ayodhya. It is a grand temple situated in Ramkot ward. It was constructed by the courtesy of Ram Priya Queen Shri Vrishbhanu Kunwari of Orchha in the district of Tikamgarh over 200 years ago!! In this temple, three divine deities of Rama, Sita and Lakshmana are installed.
It is believed that this Kanak Bhawan was presented to Sita by her mother-in-law Kaikeyi in her first meeting.
After many years, Maharaj Vikramaditya and thereafter Queen of Tikamgarh again reconstructed the temple. The birth-ceremony of Lord Rama and Shri Kishoriji is celebrated with great enthusiasm in the temple on Chaitra Shukla Navami and Vaishakh Shukla Navami respectively every year. In the yard of the temple, there is a well popularly known as Sita-koop. Devotees drink its sweet water. There is a bed-room in the upper portion of the temple in which foot-prints of the four brothers are kept on a thin leaf of silver.
Dharm Hari
There exists an ancient temple known as Dharm Hari near Ram ki Paidi. According to folklore, once Maharaja Dharm Raj visited Ayodhya and felt in his heart that this Vishnupuri is a blessed city, its significance is unparalleled.
Lord Vishnu was pleased with his frequent greetings in the name of Ayodhya; so, He graced him by making an appearance before him and instructed him to ask for a boon. Dharm Raj requested Lord Vishnu to be present in Ayodhya forever and be famed after His name and so established the temple of Dharm Hari. On Ashadh Shukla Ekadashi, devotees pray at this place to repent for their sins.
Maniparvat
It stands about 65 feet high, and some scholars think it to be of Buddhist origin. Historically, it was while Hanuman was carrying the hill bearing the Sanjeevani boothi (herb) for treating Lakshmana's wounds from Himalayas, on the way to Lanka, a portion of it broke and fell in Ayodhya and this is that very mound.
Kale Ram Mandir
Kale Ram Mandir is situated near Ram ki Paidi in Swargdwar ward of Ayodhya city. It is enumerated in important temples of Ayodhya. The deity installed in this temple is of the period of Maharaj Vikramaditya. This place is worth seeing for devotees.
Tulsi Smarak Bhawan
Tulsi Smarak Bhawan is situated on Raiganj crossing, 300 meters to the east of National Highway. Goswami Tulasi Das ji began to compose Ram Charit Manas here. Motivated by the historical importance of the place, Shri Vishwanath Das ji, the then Governor of UP, ordered to construct a building here in the memory of Goswami Tulsi Das to be known as Tulsi Smarak Bhawan.
Hanuman Garhi
Hanuman Garhi is located in a fort situated at the western gate of Ram Kot as a place of a watchman. Hanuman ji is considered the Kotwal (watchman) of Ayodhya city.
King Vikramaditya constructed this temple of Hanuman ji. Later on, Nawab Mansoor Ali constructed a fort around the temple through Tikait Rai which is now famous as Hanuman Garhi. In this temple, a golden deity of Shri Hanuman ji in the lap of his mother Anjani is established.
For the management of Hanuman Garhi, there are four arrays of saints named as Haridwari Patti, Basantia Patti, Ujjainia Patti and Sagaria Patti. They have their own Chief as well as a principal Chief who is known as Gaddinashin.
Ratna Sinhasan
Ratna Sinhasan Mandir is located near Kanak Bhawan. It is said that Lord Rama was coronated at this very place. A deity of Lord Rama and his wife Sita, made of black stone is worth seeing here.
Lord Rama and Sita along with Lakshmana, Bharat, and Shatrughna are seated here on a throne decorated with gems in the shadow of Kalp vriksha. In its vicinity, idols of Jambavan, Vibhishan, Guru Vasishtha, Vishwamitra, Sugriva and Angada are established.  At present, this place is famous as Rajgaddi.
Hanuman Bagh
It is said that Shri Ram Padarath Das, the main disciple of Shri Ram Vallabh Sharan Ji Vyas had planned to construct a Hanuman Temple for which the deity was brought from Jaipur and temporarily placed at a garden (Bagh).
Thereafter, when an attempt was made to shift the deity to its final place, it did not budge. As a result, the temple was constructed at that very place where it was initially and temporarily placed and is now known as temple of Hanuman Bagh.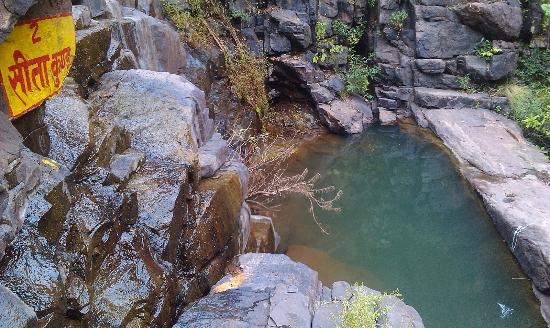 Sita Kund
The place where Shri Ram used to come for a walk is known as Ashok Vatika. Sita Kund is situated within Ashok Vatika, and is a pilgrim centre. This was inaugurated by Shri Sita Ji herself. Annual Yatra of this Kund is practiced on Agrahayan Krishna Chaturdashi and Vaishakh Shukla Navami every year.
Vashishtha Kund
Vashishtha Kund is situated near Chakra Tirtha in the city of Ayodhya. The great sage Vashishtha and his wife Arundhati resided here along with their cows. Kamdeo, the deity of kama, is also seated nearby. The fruit of bathing in the kund is attainment of knowledge like Vashishtha. The deities of Guru Vashishtha along with Rama, Lakshmana, Bharata, Shatrughana and Sita are here.
Dant Dhawan Kund
Dant Dhawan Kund is situated near Hanuman Garhi. It is said that Lord Shri Ram along with his brothers used to cleanse their teeth on the bank of this kund.
Lord Rama's Victory over Ravana
After reaching Lanka, Lord Rama killed Ravana and installed his brother Vibhishana as the king of Lanka. On the expiry of fourteen years, after settling the affairs at Lanka, the Lord returned to His kingdom, Ayodhya and was coronated as the king.
The auspicious appearance day of Lord Rama – Sri Rama Navami – is being celebrated at ISKCON Bangalore on Sunday, April 14, 2019. Join us in the celebrations and seek the blessings of the Lord.
Related Articles: