About Us
Nestled within the neo-classical temple complex of ISKCON Sri Radha Krishna Temple, Bengaluru, Yatri Nivas offers practical experience of spiritual life.
The guest house of the temple, Yatri Nivas offers spacious, well-furnished rooms for visitors and Life Members alike. The simple, comfortable rooms offer guests the opportunity to steep themselves in the deeply spiritual ambiance of the temple.
Even in the heart of India's Silicon Valley, Yatri Nivas remains far away from the noise and pollution of the city. It is surrounded by the temple's many activities and guests can hear the transcendental mantras being chanted through the day.
Accommodation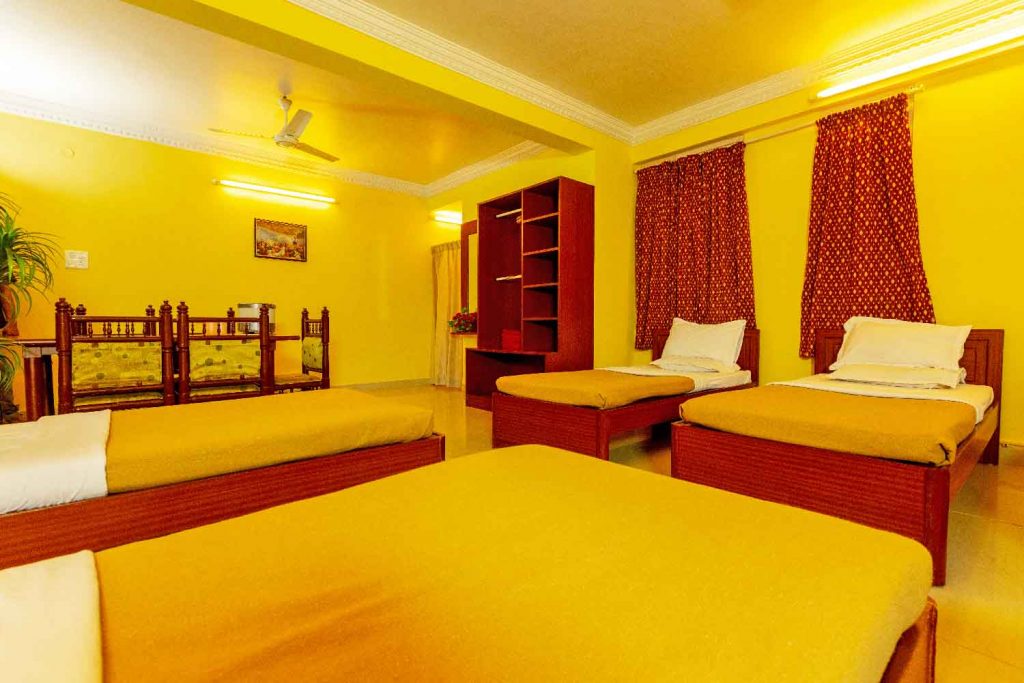 With 70 rooms, each furnished with a dresser, cupboards and 24/7 hot water supply, Yatri Nivas is well equipped to host groups of all sizes. Doubles, Triples, Family Suites, a Semi-Dormitory and Dormitories are available for guests, with access to Wi-Fi and on-campus parking facilities. Yatri Nivas also has a wheelchair and a stretcher for guests who might require them, and 24/7 security to ensure a peaceful stay for all guests.
Activities
Guests are encouraged to participate in the temple's daily worship schedule. A guided tour of the premises, association with temple devotees and a visit to the Akshaya Patra kitchens are also organized for guests at Yatri Nivas upon request. Guests may also choose to sponsor the Udayastamana Seva, to be engaged in devotional service for a full day, for a truly immersive spiritual retreat.
Dining
Guests are served delicious vegetarian, sattvic preparations that encourage lightness in the body and clarity of mind. In addition, guests are also welcome to experience the fine dining sattvic cuisine served at The Higher Taste restaurant, located right beside Yatri Nivas.
Location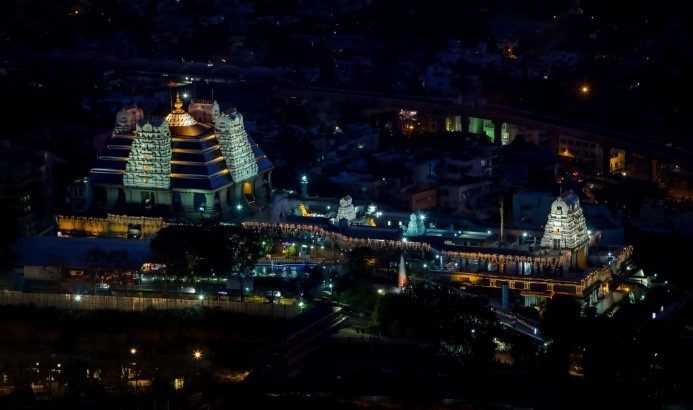 Yatri Nivas is situated within the temple complex of ISKCON Bangalore, Rajajinagar. Placed within one of Bengaluru's largest suburbs, the temple is easily accessible through the city Metro's green line as well as buses and other public transportation. The staff is also happy to connect guests with cab services upon request.
Nearest Metro Station: Mahalakshmi Metro Station
Nearest Bus Stop: ISKCON Temple Bus Stop
Policies
24/7 Check-in and Check -out
Alcohol, smoking, pan-chewing and other illicit activities are strictly prohibited within the temple premises
Outside food is not permitted within Yatri Nivas
Contact Us
For enquiries contact: 080 – 23578351 / 9342248011