Dasara is one of the grandest festivals of India, also known as Dasahara, Dusshera, Dussehra or Dashain and is observed on the day of Vijaya Dashami, the tenth day of Navaratri. It is the occasion to glorify and rejoice the victory of good over evil.
Program Highlights
On this occasion, Their Lordships Sri Sri Krishna Balarama are adorned in a special Alankara as Sri Sri Rama Lakshmana and receive all the pujas of the festival.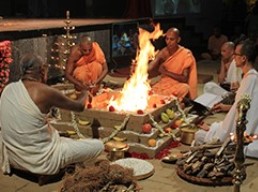 Sri Rama Taraka Yajna is performed by offering oblations into the sacrificial fire while chanting Sri Rama Ashtottara Shata Nama, 108 holy names of Lord Rama. The significance Dasara celebrations will be narrated by a senior devotee of ISKCON Bangalore as depicted in the story of Lord Rama killing Ravana.
Click here to become a sponsor for the Rama Taraka Yajna.
Dussehra Celebrations at other parts of India:
In the North, Durga Puja and Ram-lila performance are very popular.
Durga puja is celebrated with great pomp and pageantry for five-days culminating on the day of Vijaya Dashami. Exquisitely crafted and decorated life-size sculptures of Goddess Durga slaying Mahishasura are set up in the temples for worship. On the day of Vijaya Dashami, these sculptures are taken in a procession and then immersed in the river. In few other parts, at the time of Dussehra, they observe a fast for nine days and end it on Vijaya Dashami while some end it on the Ashtami. During Navaratri some also arrange Jagaran (Waking up for entire night by singing devotional songs).
At Varanasi, Lucknow and Kanpur, Dussehra is celebrated with great zeal. Actors in the attire of Lord Rama, Lakshmana and Hanuman perform Rama-lila, the epic saga using audio visual devices and audience is thrilled to see them setting ablaze the idols of Ravana, Kumbhakarna and Meghanada, on Vijayadashami.
At Gujarat, Dussehra is celebrated as Navaratri or Navaratra. Garba, the famous folk dance is the primary element of Dussehra in this state. People together make themselves tune on the folk songs with multi-coloured sticks.
In the South, the Mysore Dasara celebrations attract tourists from all over the world. Goddess Chamundeshwari (Durga) is carried on a golden throne which is mounted atop a decorated elephant. The procession comprising of colourful tableaux, dance groups, music bands, decorated elephants, horses and camels, starts from the Mysore Palace and ends at a place called Bannimantapa where the banni (shami) tree is worshipped.
Click here to know more about the importance of Navaratri and why Navaratri is celebrated.