Would you like to know how to prepare Panakam and Kosambari, the popular prasadam served on Rama Navami? Here are the recipes.  Also find the recipe for Huli Avalakki which is another traditional preparation for this day.
Panakam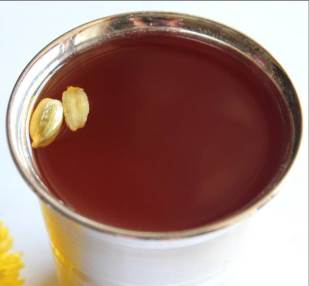 Ingredients:
Powdered jaggery – one cup
Water – 3 cups
Lemon – 2 nos.
Dried ginger (powdered) – 1 ½ tsp.
Crushed cardamom – 2 nos.
Crushed pepper & salt – ½ tsp.

Method:
Mix the jaggery in water and dissolve it well.
Filter it and add lemon juice, dried ginger powder, cardamom, pepper and salt.
Mix well and serve chilled.
This not only quenches the thirst; it is also cooling during the summer.

Panakam with tamarind
Ingredients:
1 cup tamarind juice
6 cups boiling water
1 1/2 teaspoons cumin seeds
1/4 cup superfine sugar
8 fresh mint sprigs
4 fresh ginger ½ inch thick slices
1 stick cinnamon 3-inch

Method:
Dry roast the cumin seeds over moderate heat in a saucepan until fragrant, for about one minute.
Add tamarind juice and remaining ingredients and bring to a boil.
Let the mixture steep at room temperature for 3 hours.
Pour drink mixture through a sieve into a jug.
This drink may be made one day ahead and chilled.

Panakam with musk melon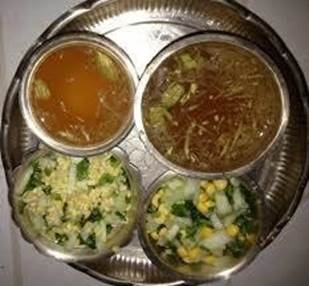 Ingredients:
Jaggery – 1/2 cup
Powdered Cardamom – 1 tsp
Musk Melon (peeled and chopped) – 1 cup
Lemon juice – 1 tsp
Cold Water – 3 glasses

Method:
Dissolve jaggery powder in water by stirring.
Add chopped pieces of musk melon and stir it. You can also mash a few cubes to make the drink thicker.
Add cardamom powder & lemon juice and stir.
The panakam is refreshing when it is served fresh and cold.


Kosumbari (Salad)
Kosumbari is easy to prepare and it is synonymous with Rama Navami and is offered as prasadam in most temples. It is popular as a starter in most festival foods (marriages, etc.)
Ingredients:
One cup chana dal
Green chilli – 3 to 4
Ginger grated 1 tea spoon
Grated coconut 3 tea spoons
Salt to taste
Lemon or raw Mango Juice 3 tea spoons
Oil for seasoning
Coriander for garnishing

Method:
Soak chana dal for 3 to 4 hours and then grind it with green chilli and ginger coarsely.
Add salt, lemon juice & grated coconut.
Season it with oil, mustard seeds and jeera.
Garnish with coriander leaves.

Moong dal Kosambari
Ingredients:
Split moong dal – 1 cup
Freshly grated coconut – 1 cup
Finely chopped cucumber – 1 cup
Salt to taste
Lemon juice– 1/2 tsp
Hing/Asafoetida – a pinch
Chopped Coriander leaves – 2 tbsp
Green chilies split into two halves – 2 to 3
For seasoning:
Oil – 2 tsp
Mustard seeds – 1/2 tsp
Urad dal – 1/2 tsp

Method:
Soak moong dal for an hour.
Drain the water and add grated coconut, chopped cucumber and green chilies to the moong dal.
For seasoning, first heat the kadai and keep it on medium flame. Add oil and when it is hot, throw in mustard seeds. When it splutters, add urad dal. Turn off the flame and allow it to cool.
Pour the seasoning over the preparation and sprinkle hing.
Add salt as required and pour lemon juice and mix well. To garnish add chopped coriander leaves.


Carrot Kosambari
Ingredients:
½ kg carrots – peeled and grated
½ cup moong dal
3-5 stalks of fresh coriander stalks finely chopped
Juice of half a lemon
½ tbspn of salt
1 tbspn oil
For seasoning:
½ tbspn mustard seeds
A pinch of asafetida
5-6 curry leaves

Method:
Soak moong dal for two hours.
Drain the water from the moong dal and add it to the grated carrots in a bowl, along with the salt, lime juice and coriander.
Heat the oil in a pan and add mustard seeds, when they start popping add curry leaves and asafetida.
Pour the seasoning over the carrot and moong dal mixture.
It may be served chilled as salad.

Cabbage Kosambari
Ingredients:
Fresh Cabbage -1/4 kg
Grated coconut – ½ cup
Capsicum- 1
Lemon juice – 1 tbsp
Salt to taste
For seasoning:
2 tbsp oil
½ tbsp mustard seeds
7-8 curry leaves

Method:
Chop cabbage and capsicum finely.
Add grated coconut, salt, lemon juice and mix it well.
Season with mustard seeds and curry leaves.

Huli Avalakki
Ingredients:
1 cup beaten rice (avalakki)
1/2 cup tamarind juice
Small piece of jaggery
1 tsp rasam powder
A pinch of turmeric powder
2 tsp sesame seeds
Salt to taste
For Seasoning:
1 tbsp oil
1/2 tsp mustard seeds
1 tsp peanuts
A sprig of curry leaves.

Method:
Dry grind the beaten rice coarsely and keep it separately in a bowl.
In another mixing bowl, mix together tamarind juice, jaggery, turmeric powder, rasam powder, salt.
To this mixture, add the coarsely ground beaten rice and mix well. Allow this mixture to soak for 30 to 45 minutes.
Then, take a kadai and heat the oil. Add peanuts, curry leaves and mustard seeds to the oil. When the mustard seeds pop, remove from the stove and add it to the beaten rice mixture.
Finally, dry fry the sesame seeds for 2 minutes and dry grind the same to a fine powder.
Add this sesame powder to the mixture and mix well.
Huli Avalakki is ready for offering.

Related Links: Sri Rama Navami | Sri Rama Ashtottara | Nama Ramayana | Rama Navami Vrata