Check out these mouth-watering recipes for preparing delicacies on the occasion of the festival of Sri Jagannatha Mishra.
Sri Jagannatha Mishra was the father of Sri Chaitanya Mahaprabhu. The festival of Jagannath Mishra is observed on the day following Gaura Purnima (Appearance Day of Sri Chaitanya Mahaprabhu). On this day, Jata-karma samskara (ritualistic ceremonies prescribed at the time of birth) was performed to baby Nimai (Sri Chaitanya Mahaprabhu). There was a grand celebration at the home of Jagannatha Mishra along with a feast, celebrating the birth of his son.
Here are some recipes for you to celebrate this festival by preparing and offering these special dishes to Sri Chaitanya Mahaprabhu.
Vegetable Jalfrezi
Cooking time: 30 minutes

Serves: 5
Ingredients:
Ghee: 2 tbsp
Jeera: 1 tsp
Green Capsicum: 1 Medium sized
Peas: 1 Cup
Green Beans: 1 Cup
Carrot: 2 Medium sized
Tomato (Puree): 3 Medium sized

Spices:
Cumin Powder:  Dry roast the seeds on low flame and grind to powder 1 tsp
Coriander Powder: Dry roast the seeds on low flame and grind to powder 1-½ tsp
Turmeric Powder: ½ tsp
Salt: To taste
Garam Masala: 1 tsp

Method:
Put ghee in a pan and add jeera. Allow the seeds to brown.
Now toss in capsicum and sauté till it has softened a little.
Then add in the vegetables one by one. Add salt and mix well to combine. Close the lid and cook till the veggies are half cooked.
Add the spice powders and sauté well on high flame for a minute. Now turn the heat to medium low and cover the lid and cook for 10 minutes.
Add the puree and cook till the spices, veggies and puree are combined and cooked well.

Tamatar Moong Dal – subtle yet fiery
Cooking time: 25 – 30 minutes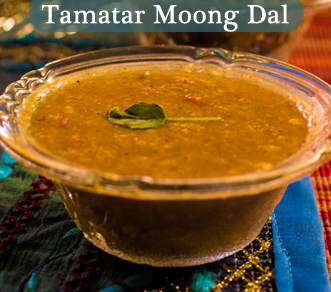 Serves: 8 – 10
Ingredients:
In to the pressure cooker 
Moong dal: 170 gms
Water: 3  cups
Turmeric: ¼ tsp
Cinnamon stick: 2"
Ghee/oil: 1 tbsp
Salt: To taste

Spices – to be dry-roasted on low flame for 8-10 minutes. Grind to powder.
Coriander seeds: 2 tsp
Cumin seeds: 1 tsp
Fennel seeds: ½ tsp
Sesame seeds: 1 tsp
Whole cloves: 3
Green cardamom pods (peel the skin before grinding): 4
Black peppercorns: 5

Seasoning 
Ghee: 2 tbsp
Asafetida: ½ tsp
Green chilies: 2
Jaggery: 1 tbsp
Ripe tomatoes: 3 medium sized
Coriander leaves: 3 tbsp

Method:
Heat ghee in a pan. When it is hot enough put in asafetida, spice powder and fry for 30 seconds.  Add jaggery and stir well.
(Be careful not to burn it. If you feel the ghee/oil is too hot then take the pan off the flame and put the powder and fry. But I suggest not heating the ghee/oil till it starts smoking. That's the bad point to put in the powdered spices.]
Toss in the tomatoes and fry well. Cover to cook it well.
Once the tomato pulp, juice and spice powder is  well combined to form a thick paste add this to the precooked dal and allow it to boil for 5 minutes so the seasoning combines well in dal.

Spinach and Badam Sak
Ingredients: 
Nut soaking time: Overnight or at least 4 hours (in hot water)
Cooking time: 20 minutes.
Serves: 4 or 5
Ingredients:
Ghee: 3 tbsp
Black mustard seeds: 1 tsp
Cumin seeds: 1 tsp
Fenugreek seeds: ¼ tsp
Jaggery/sugar: 1 tbsp
Fresh ginger: Grated 1 tsp
Green chilies: Minced 1 tsp
Raw almond: Soaked and skin peeled 50 gms
Spinach: Washed and shredded 2 bunches
Fresh coconut: Grated 3 tbsp
Salt: To taste
Water: If  required
Nutmeg: Powder ¼ tsp

Method:
Heat ghee in a pan over moderate heat and add spice seeds and jaggery and fry until the jaggery caramelizes.
Add grated fresh ginger, chilies and nuts. Sauté well.
Once the chili ginger mix loses its raw smell, mix in spinach and cover to cook it in its own juices.
Once the spinach is almost cooked toss in coconut, salt and nutmeg. Mix well to combine. Cover and reduce the heat to low and cook for 2 minutes.
Serve hot.

Shukto
Soaking time: Overnight 
Cooking time: 15–20 minutes after frying the vegetables individually.
Serves: 5-6
Ingredients:
Vegetables – to be fried individually in oil/ghee
White radish: scraped and cubed 70 gms
Ridge gourd: scraped and cubed 70 gms
Drumstick: Cut in 1" length 2 numbers
Baby Eggplants: + quarters with stalk intact 5 numbers
Field /Val beans (avarekai): peeled and washed 70 gms
Plantain: peeled and cubed 70 gms
Sweet potato: washed, peeled and cubed 70 gms
Potato: washed, peeled and cubed 70 gms
Bitter gourd: Sliced 70 gms

Masala
Poppy seeds – soaked and ground to paste: 4 tbsp
Mustard seeds – soaked and ground to paste: 1 tbsp
Green chili paste: 2 tsp
Ginger paste: 2 tsp
Panch phoron * (dry powder): 25 grams
Sugar: To taste
Salt: 1 tsp
Fresh coriander- washed and chopped: 3 tbsp

* 25 gms of panch phoron = 1 tsp EACH of fenugreek, fennel, cumin, black mustard, and ajwain seeds.
Method:
Fry each of the vegetables separately in a wok in hot oil/ghee. And keep aside.
In a wok heat 2 tbsp of ghee and pour in wet masala (i.e., chili paste, ginger paste,  poppy seeds paste and mustard seeds paste) one by one, as well as salt and sugar and fry till it combines into ghee and cook for 5 minutes. Toss in pre fried veggies and mix well. Add adequate water to make gravy. Allow it to cook for 10 minutes by covering the lid. Then add panch phoron and mix well to combine. Close and cook for 5 minutes.
Mix freshly chopped coriander and turn off the flame. Keep it covered for 10 minutes.

Ras Malai
Note: Tastes best if prepared and kept much earlier. Say a day before.

Serves : 7
Cooking Time: 45 minutes to 1 hour.
a) Ingredients to make RABDI
Milk: 500 ml

Amul Mithai Mate: 400 ml one can
Pistachios: Blanched and sliced 100 gms
Almonds: Blanched and sliced 100 gms
Kesar strands: Soaked in warm water ¼ tsp in 1 tbsp water
Heat pre boiled milk and Amul Mithai Mate along with kesar water in a thick bottomed sauce pan. Continue to boil till the mix starts to thicken on moderate heat. Add sliced dry fruits and continue to boil.
Remember to stir the rabdi and scrape the sides frequently to avoid any thick formation on the wall of the pan and also to avoid burning.
Once the rabdi is thick enough, turn off the heat and allow it to cool down. This would take about 45 minutes on low flame.

b) Ingredients for CHENNA:
Draining time: 1 hour
Kneading time: approximately 10 minutes
Milk: To be boiled 1 ltr
Lime juice: To split the milk 1 tbsp
Boil milk on a low flame and when it starts boiling turn off the heat and cool it a bit, say for about 2 minutes. Now add lime juice and allow the milk to split.
Leave it undisturbed for about 5 minutes or till you see (very) light green color water on the surface.
Strain the split milk and preserve the solid lumps. Pour in fridge-cold water over the solid milk lumps to stop cooking it further as we intend to keep the chenna soft. Further cooking will only harden it.
Drain excess water by hanging it in a muslin cloth, say about an hour till all the water content drains away.
Uncover the chenna and knead for about 10 minutes or until the lumps have disappeared and formed into a smooth cream.
Make 7-8 equal portions and roll into clear surface balls.
Press a bit in the middle of the ball using your thumb. Keep aside.
c) Ingredients for  SIMPLE SYRUP:
sugar: 1 cup
water: 6 cups
Cardamom powder: 1 tsp
Heat water and add sugar as well as cardamom powder into it when it is simmering and allow it to boil. Once the sugar has dissolved simple syrup is ready.
The simple syrup should preferably be thin as it helps malai absorb sweetness and become light. Hence turn off the heat once the sugar has dissolved in the water.

Process:
The following steps to be followed once the syrup and chenna balls are ready.
STEP 1: SIMMER
Bring the syrup to boil over medium heat. Once it starts boiling drop the chenna balls into it slowly.

STEP 2: ROLLING BOIL
Now turn the heat on high flame and cover the lid. This needs to continue to boil for 20 minutes or until the chenna has puffed and looks double in size.

STEP 3: EXTRA HOT WATER
It is important to keep the syrup light so you need to keep adding ¼ cup of hot water every 5 minutes while it is boiling.

STEP 4: READY
At the end of the process the chenna balls would have turned light and fluffy in texture. Allow it to cool down.
When chenna balls have cooled down press them a bit to drain water from them so that they absorb rabdi when combined together.

(Take care while draining the water. Do not press between your palms, rather put it in a wide strainer and press gently using a broad spoon. Whether you press between your palms or use a strainer you sure don't want to put a lot of pressure on the patties as they tend to break.)

Once rabdi as well as chenna patties have come to room temperature drop in chenna patties into the rabdi and garnish with dry fruits.
Dahi Gobi
Marinade time: 15 minutes

Cooking time: 15 minutes
Serves:  4-5
Ingredients
Marinade:
Curds: Beaten 1 cup

Besan: 2 tsp
Ginger paste: 2 tsp
Red chili powder: 2 tsp
Kasuri methi: Crush a bit by rubbing between your palms, 1 tbsp
Salt: To taste

Seasoning:
Ghee: 1 tbsp
Cumin seeds: 1 tsp
Capsicum: Sliced 1 cup
Cauliflower florets: Parboiled* 2 cups

Method:
Marinate the cauliflower florets in the marinade mix for at least 15 minutes.
Heat the ghee/oil and toss in cumin seeds, as the seeds brown add capsicum and sauté till it softens. This would take about 5 to 7 minutes depending on the heat.
Add the florets along with the marinade and stir fry. Cover and cook for 15 minutes on moderate heat or till the florets are cooked.
*Parboiling is a technique used to cook some veggies to remove impure substances or foul-tasting substances from it. It is also done to soften some veggies which will then be cooked in other ways like grilling or stir-frying.
Ajwain Puri
Ingredients 
Whole wheat flour: 2 cups
Water: As required
Ajwain: ½ tsp to 1tsp
salt: 1 tsp

Method:
a) Kneading the dough
Combine all the dry ingredients to distribute salt and ajwain evenly in the flour. Add adequate water to make tough dough.
Be careful while adding water. Add a few tsps at a time. The dough needs to be tighter than your regular chapatti dough.
Cover and keep aside for half an hour at least, near the stove or any warm place.

b) Frying in oil 
Once the dough is ready make small balls out of it and spread evenly using the rolling pin.
Don't roll the sheet too thin. Try not to put too much of dry flour while rolling the sheets as this causes the oil to burn soon.
Now carefully drop it in the hot oil and fry evenly on both the sides.
Take the puris out of oil and put it on a paper towel / tissue to get rid of excess oil.

Related Links: Sri Gaura Purnima | Sri Chaitanya Mahaprabhu | Gaura Arati