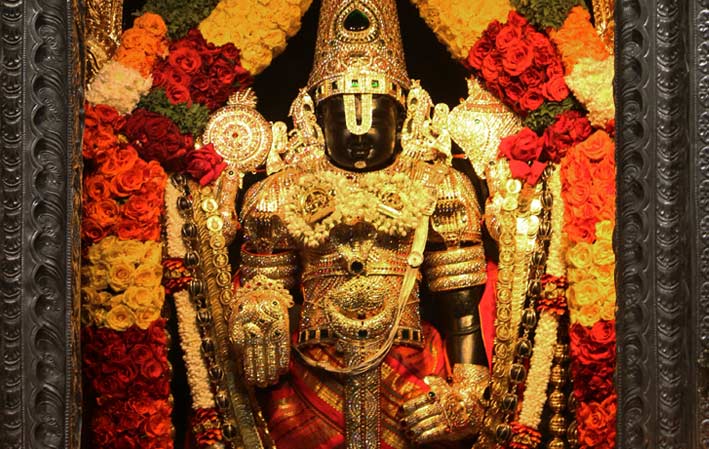 Lord Srinivasa Govinda in a special alankara
A regular feature during the Vaikuntha Ekadashi celebrations at ISKCON Bangalore for the last three years has been the free online archana seva.
It is a unique opportunity extended by the temple to all visitors to its website to register online for a free archana to be performed in their name. There is also a provision for them to add names of their family members along with gotra, rashi, nakshatra, etc. The archana is performed to Lord Srinivasa Govinda on the day of Vaikuntha Ekadashi.
Further, those who have registered can also participate online in the archana by logging on to the temple's website. The archana is broadcast live and they can participate in the seva by chanting the names of the Lord.
This offer has been witnessing an overwhelming response with more and more devotees registering every year, seeking the blessings of the Lord on this auspicious day. Being online in nature, this initiative has made it possible for thousands of people from all over the world to become its beneficiaries.
Lord Srinivasa Govinda receives a number of sevas on Vaikuntha Ekadashi. While suprabhata seva, a grand abhisheka and tomala seva are performed early in the morning, ekanta seva that is performed late at night concludes the festivities.

The Lord receiving laksharchana seva
A special seva —laksharchana is performed to the Lord which begins in the morning and lasts throughout the day. As the name suggests, the Lord is duly worshipped by invoking Him in kalashas and offering fragrant flowers while reciting His holy names at least one lakh times.
This year, two batches of devotees comprising of fourteen per batch, took turns to perform laksharchana from 8:45 am to 9:00 pm. They recited Sri Krishna Ashtottara Shata Namavali (108 holy names of Sri Krishna) 1,556 times which totals to 1,68,048 names of the Lord.
Sri Gunabhadra dasa who coordinated the laksharchana said, "Chanting the names of the Lord is very important in this kali-yuga. The devotees who participated in the seva enjoyed chanting the names of the Lord. They were not tired of chanting the names repeatedly and were enthusiastic to chant more and more."
Children performing laksharchana seva
It is noteworthy that this year, for the first time, a group of 14 children – seven boys and seven girls, below 12 years – also participated in the laksharchana and chanted the holy names for one hour.
Registration for online archana seva this year saw an increase of 42%. 15,939 devotees from 934 cities spread across 52 countries participated, as against 11,219 devotees from 52 countries last year. The registration was open from 6th December 2016 to 8th January 2017.