Here are some of the traditional delicacies prepared on the day of Janmashtami.
On the auspicious occasion of Sri Krishna Janmashtami (Gokulashtami), it is customary to prepare a few traditional sweets and savories. As Lord Krishna was very fond of milk and milk products, devotees make various dishes of milk to please the Lord. Given below are some recipes – murukkus, chaklis, chikkis, different varieties of laddus, burfis, etc.
Try these mouthwatering recipes to get the festival feel and offer them to Lord Krishna, before partaking of the same along with your near and dear ones.
Coconut laddus
Ingredients: Condensed milk one tin, desiccated coconut powder 2 cups, cherries half cup.
Method: Mix the condensed milk and one and a half cup of desiccated coconut powder in a bowl and stir on a low flame for about ten minutes. Set aside until the mixture has slightly cooled down and shape into laddus. Roll each laddu in the desiccated coconut powder and decorate with cherries.
Sesame laddus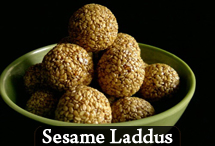 Ingredients: White sesame seeds 100 gms, jaggery 150 gms, a little grated dry coconut.
Method: Wash the sesame and dry it on a white muslin cloth. After it dries, roast it till golden brown. Powder it coarsely in a mixer. In a kadai put the jaggery with little water and bring it to a thread-like consistency. Switch off the gas and add dry coconut powder, sesame powder and shape into laddus when still hot.
Groundnut laddus
Ingredients: Groundnuts 1 cup, jaggery half cup, dry coconut (grated) 1/4 cup, rice 100 gms, and green gram dal 100 gms.
Method: Roast the groundnuts until the skin comes out. Fry rice and green gram dal till golden. Powder both in the mixer. In a kadai put the jaggery with little water and boil till it reaches a thread-like consistency.
Add the roasted groundnut, rice and dal flour and dry coconut and shape into laddus while still hot.
Chaklis
Ingredients: Rice flour 4 cups (washed and dried), urad dal 1 cup, hot oil or ghee for dough, 75 ml, salt to taste, white sesame seeds 2 tsp.
Method: Pressure cook dal in just enough water for 10 minutes. Drain excess water and grind dal to a smooth paste.
Mix it with rice flour, salt and sesame seeds. Pour hot oil on top and mix well. If necessary, add a little water. Pass through a well-oiled chakli making device with a single or three-holed plain disc to prepare small chaklis on to the top of a thick polythene sheet.
Deep fry a few at a time. Store in an air-tight container.
Bread murukku
Ingredients: Bengal gram flour 1 cup, rice flour half cup, bread 8 to 10 slices, powdered salt 1 tsp, red chili powder 3/4 tsp, asafetida powder 1/4 tsp, hot oil for the dough 1 1/2 tbsp, oil for frying.
Method: Remove the brown crust from bread slices. Dip one slice at a time in water, remove immediately and squeeze out water. Add rice flour, gram flour, salt, chili powder to the squeezed bread and mix well. Pour hot oil, asafetida powder and then sprinkle water to prepare thick dough. Using a star disc or ribbon disk, fill dough in a well-oiled chakli making device and squeeze directly in hot oil to prepare murukkus. Fry till light brown over medium flame.
Besan laddu
Ingredients: 225 gms ghee, 225 gms besan flour, 350 gms castor sugar, 1 tsp cashew nuts chopped, 1 tsp almonds chopped, 1 tsp pistachio.
Method: Roast besan in ghee on low flame. Keep stirring the mixture to avoid lumps. Remove and set aside to cool. Add sugar and cashew nuts to the besan mixture and mix well. Shape it into laddus.
Groundnut chikki
Ingredients: Groundnuts one and a half cup, sugar one cup, ghee 2 tbsp.
Method: Roast the groundnuts in a kadai over moderate heat. When cool, brush off the skin. Melt sugar on a low flame in a thick pan without adding water, stirring continuously. When it has melted and turns light brown in colour remove pan from fire and add the nuts stirring briskly. Quickly pour on a greased plate and cut it to required shapes.
Shankarpali
Ingredients: 1 cup sugar, half cup oil for deep frying, 2 cups maida, a pinch of salt.
Method: Mix sugar, oil and one cup water in a vessel and bring to a boil. Set aside to cool. When cooled, add a little salt. Add maida little by little and knead to soft dough. Mould into big balls. Flatten each ball into round shapes with a rolling pin. Using a knife, make diamond shaped pieces. Carefully lift and deep fry in oil till golden brown in colour.
Chithundai (Sweet balls)
Ingredients: For the filling, coconut gratings 2 cups, jaggery powder 1 cup, cardamom powder 1/4 tsp, a few cashew bits and raisins, oil for deep-frying. For the covering: Urad dal half cup, rice flour half cup, butter 1 tbsp, salt – a pinch.
Method: Soak urad dal for 2-3 hours, drain and grind to a smooth paste until fluffy. Mix salt to butter and rub till fluffy, add rice flour and mix well. Add this to the ground paste and mix thoroughly to make a batter of very thick coating consistency.
Cook coconut gratings with jaggery till well blended and dry. Add the rest of the filling ingredients and mix well. Make into lemon sized balls.
Heat oil, dip each ball into the batter and deep fry till brown and crisp. Drain and store when cool.
Rave Unde (Semolina balls)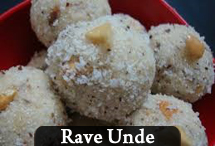 Ingredients: Chiroti rave 1 cup, sugar 1/2 cup, grated coconut 1/2 cup, ghee 2-3 tbsps, cardamom powder 1/4 teaspoon, cashew nut pieces 1-2 tbsps, raisins, 1-2 tbsps.
Method: Take one tsp of ghee in a kadai and fry cashew nuts till golden brown along with raisins. Keep aside in a bowl.
Add the remaining ghee to the kadai and when it melts add both the chiroti rave and grated coconut and roast till the rave turns golden brown and gives a good aroma. Transfer this to the above bowl.
Now add sugar to the kadai and just enough water to cover it, and heat it till the syrup boils. Remove kadai from the stove and add cardamom powder, mix well and then transfer the contents of the bowl to the kadai and mix well. When this mixture has cooled, take small portions and make lemon-sized balls. Store in an airtight container and this will stay fresh for about a week.
Puri Unde (Puffed rice balls)
Ingredients: 2 cups puri roasted (puffed rice), ¼ cup peanuts (roasted and split), 2 tsp sesame seeds (roasted), 3 tbsps fried gram dal (hurigadale), 3 tbsps dried coconut pieces, one cup jaggery powder, 5 tbsp water.
Method: Dry roast the sesame seeds and peanuts. Remove the skin from peanuts. (To easily do this you may put the roasted peanuts in a clean cloth and rub gently, it will peel the skin and also split them) If the puri is not crunchy enough, warm it up and keep it aside. Now in a bowl, mix the puri, roasted peanuts, coconut pieces, and hurigadale / fried gram and keep it aside. Add the sesame seeds at the end.
To prepare the syrup:
Keep the jaggery along with 4 to 5 tbsps water in a pan on medium heat. Allow the jaggery to melt completely and then strain it through a clean cloth. Boil this clean syrup in a kadai on medium heat till it reaches a thread-like consistency. You may add a drop of syrup into a bowl of water. The syrup should not dissolve. When it reaches this consistency, turn off the stove and pour it onto the prepared mix and add sesame seeds.
Mix it with a spoon at first, and once it is warm enough, either make your palm a little wet and make the balls or rub your palms with little rice flour and make the balls.
Salt Seedai
Ingredients: Rice flour 1 cup, urad dal flour 1 tsp, freshly grated coconut 2 tsps, chili powder 1tsp, hing ½ tsp and melted butter ¼ cup.
Method: Roast the urad dal till it is brown, and make a fine powder out of it. Dry roast the rice flour till it becomes light brown evenly.
In a mixer, make a paste of coconut, chili powder by adding some water. To this coconut paste, add rice flour, urad dal flour, besan, a pinch of hing and salt to taste. Mix it well by adding some water. This Seedai dough is now ready to go into the hot oil.
Grease your palms with some oil and make small marble-sized balls by rolling them onto your palm. Make sure the oil is hot enough; you could add a small ball to check if the oil is ready. Gently, toss-in these tiny snow-balls into the kadai and keep stirring till they are evenly cooked. Use a frying ladle to drain-out the excess oil.
Phirni
Ingredients: 800 ml milk, 100 gms sugar, 3-4 strands saffron dissolved in milk, 40 gms basmati rice, 1 pod green cardamom, a few cashew nuts and pista, 2 drops rose water, 2 drops kewra water, 2 drops kesari essence, 1 pinch kesari food colour.
Method: Take the basmati rice and sugar and grind it to a coarse mixture. Boil the milk till it reduces to three-fourths quantity. Grind the cashew nuts, pista, and green cardamom (with skin) into a fine powder separately. While the milk is still boiling add the rice and sugar mixture, pista and cardamom powder to it and continue boiling. Add kesari essence, rose water and kewra water and the kesari colour. Remove the container from stove.
When cooled, transfer the mixture into a kullad (clay bowl). Garnish it with chopped pista, almonds and saffron strands. Refrigerate for about 15-20 minutes. Serve chilled.
Related Links: Sri Krishna Janmashtami | Janmashtami Vrata Procedure