The Makar Sankranti excitement is in the air and the delectable food only adds to the festive cheer. This is the first festival celebrated in the year by a majority of people in India both in the North and South. It is considered important to make sweets with peanuts, sesame seeds, coconut and jaggery during this festival, and usually, chikki is the most popular sweet made with these ingredients.
In Tamil Nadu, this festival is called Pongal, and farmers pay their obeisance to the Sun God, thank Him for a good harvest. Freshly-harvested rice and vegetables are used to make traditional delicacies like Chakkarai Pongal (Sweet Pongal), etc. The rice is usually cooked in new earthen pots. Colourful rangolis are drawn in front of the houses and the earthen pot is placed in the centre of the rangoli on a wood-fired stove and the rice is cooked under the Sun. Many households in rural areas prefer to follow this traditional method till date. In the cities, for lack of facilities people cook these delicacies on gas stoves or hot plates.
Here are some recipes which are all-time favourites. Try these mouthwatering recipes to get the festival feel and offer them to Lord Krishna, before partaking of the same.
Ven Pongal
Ingredients
¼ cup yellow moong dal
½ cup rice
¼ tsp asafetida
1 ½ tsp cumin seeds
1 tsp finely chopped ginger
Salt to taste
1 ½ tbsp ghee
1 tbsp broken cashew nuts
1 tsp coarsely crushed black pepper
A few curry leaves

Method
Heat a small non-stick pan and add dal and dry roast on a medium flame for 2-3 minutes.
Wash the dry roasted dal and rice.
Mix the dal-rice mixture, asafetida, half tsp of cumin seeds, ginger, salt and three cups of water in a pressure cooker and cook for five whistles.
After steam escapes, open the cooker and add half a cup of hot water and mix well.
Heat ghee in a small non-stick pan and add the balance one tsp of cumin seeds and sauté on medium flame for half a minute.
Add cashew nuts, coarsely crushed pepper and curry leaves and sauté on a medium flame for half a minute.
Add the above seasoning to the dal-rice mixture and blend well.
Serve when still hot with ghee.
Puran Poli / Holige / Obbattu
Ingredients
For the filling:
1 cup tur dal
1 cup of sugar
A few strands of saffron
½ teaspoon cardamom powder
¼ teaspoon nutmeg powder (jaiphal)
A pinch of mace powder (javantri)
2 tablespoons ghee
For the dough:
2 cups wheat flour
2 tbsp oil
Method
For the filling:
Wash and pressure cook the dal in 1 ½ cups of water.
Drain any excess water and keep aside.
Heat the ghee in a pan; add the dal and sugar and cook till the mixture thickens, stirring
Dissolve the saffron in a little water by rubbing it between your fingers.
Add the cardamom, nutmeg and mace powders, saffron liquid and mix well.
Cool, divide into 10 to 12 portions and keep aside.

For the dough:
Combine the flour and oil and knead into a soft dough with water.
Divide into 10 to 12 portions and keep aside.

Method
Roll out one portion of the dough into a three-inch diameter circle.
Place a portion of the filling mixture and fold the edges of the dough over the filling.
Press the edges together to seal the filling in.
Flatten the dough and roll again into a four-inch diameter circle.
Cook on a tava over a medium flame till golden brown on both sides.
Repeat for the remaining dough and filling.
Smear with ghee and serve hot.
Til laddus / Ellu Unde
Ingredients
1 cup white sesame seeds
2 tbsp roasted, peeled and halved ground nuts
½ cup jaggery
½ tsp cardamom powder
Ghee for smearing the palms (a little)
Method
Wash sesame seeds in water and spread them on a cloth for about 15 to 20 minutes till they are at least semi-dry. Roast them on a medium flame till they start popping and give out an aroma. Take them off heat.
Heat jaggery with 2 tbsp water, keeping the heat on medium.
Take some water in a plate and add a drop of the jaggery syrup in it. The jaggery should sit like a drop without getting diluted. That shows it has reached the required consistency.
Add the sesame seeds and peanuts. Mix well. Take off the heat.
Add the cardamom powder. Mix again.
Apply some ghee to your palms and make small balls of the mixture from the plate.
Tip: While the mixture is still hot make the laddus as it tends to get hard once cooled.

Sakkare Pongal / Sweet Pongal
Ingredients
2 litres milk
1 ½ cups rice
¼ cup moong dal
15 cashews
10 almonds
30 kishmis
¼ teaspoon nutmeg powder
1 ½ cup grated jaggery
¼ tsp crushed saffron
1 tsp cardamom powder
2 tbsps ghee

Method
Chop almonds and cashews.
Pour milk in an earthen pot and place it on fire.
When the milk starts boiling, add rice and dal, after washing. As soon as the rice and dal are cooked to softness, add jaggery and ghee.
Let it cook on medium flame for some time and then add almonds and cashew bits, saffron, nutmeg, cardamom powder and raisins.
When it starts boiling, it is ready to serve.
Groundnut chikkis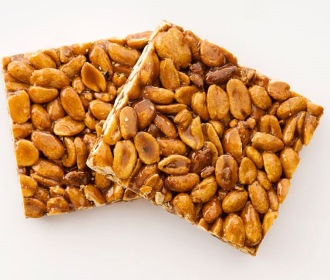 Ingredients
Groundnuts 1 cup
Jaggery half cup
Dry coconut (grated) 1/4 cup
Rice 100 gms
Green gram dal 100 gms

Method
Roast the groundnuts until the skin comes out.
Fry rice and green gram dal till golden.
Powder both in the mixer.
In a Kadai put the jaggery with little water and boil till it reaches a thread-like consistency.
Add the roasted groundnut, rice and dal flour and dry coconut and shape into squares of half-inch thickness while still hot.