Lord Ganesh is very fond of Krishna prasadam, and this is why a long list of recipes is prepared on the occasion of Ganesh Chaturthi.
It is said that if you want to please Lord Ganesh, all you have to do is offer him his favourite dishes. Prepare these delicacies and offer it to Lord Krishna and then to Lord Ganesh before relishing it.
Moong dal halwa
Ingredients

1½ cup moong dal, soaked
¾ cup mawa, well crumpled
1 cup sugar
1½ liter milk
½ tsp saffron, soaked in a little milk
5 cardamoms, powdered
6 tbsp ghee
Method
Grind the moong dal coarsely. Heat the ghee and fry the dal till golden in colour.
Add milk and cook till the milk has been absorbed. Add mawa and cook on a low fire, stirring continuously till the dal and mawa are well blended.
Make sugar syrup of one thread consistency and add saffron and cardamom powder to it. Add the fried dal to the syrup and stir quickly till it mixes well. Top with thin slivers of blanched almonds.
Sundal
Ingredients: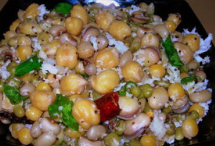 Chana dal – ½ kg
Red chilies – 5
Curry leaves – a few
Shredded coconut – 5 tablespoons
Mustard seeds – for seasoning
Oil – for seasoning
Salt – to taste
Method:
Soak chana dal for at least eight hours.
Pressure cook it with a little salt.
Heat oil in a pan.
Season mustard seeds.
Add curry leaves, red chilies, shredded coconut, salt and the cooked chana dal.
Mix well and serve.
Kayi Kadubu
Kayi kadubu is a traditional sweet dish of Karnataka. Kayi Kadubu is steam cooked. It is usually prepared during Nagarapanchami and Ganesh Chaturthi.
Ingredients:
1 cup rice
½ cup coconut, grated
1 cup jaggery, powdered
1 tsp cardamom powder
Method:
1.    Soak the rice overnight in enough water. Drain out the water thoroughly and powder it in a mixer. The powder should be very fine.
2.    Boil 1 ½ cups of water in a kadai. To this, add the rice powder and stir continuously to form a single dumpling.
3.    Remove from stove and knead well, like chapati dough.
4.    Make small balls and roll them out into chapati like circles.
5.    Place about 2 tsps of filling in the centre and fold the rice chapati. Seal the ends with the help of some water.
6.    Place the kadubu prepared above on a plantain leaf and steam cook for about 7-9 minutes.
For the Filling:
1.    Mix jaggery and coconut in a kadai and place on stove over low heat.
2.    Stir continuously until the jaggery melts and blends well with the grated coconut. You can adjust the quantity of jaggery according to your taste.
3.    Add elaichi powder and remove from stove.
Modak
Modak is a famous Indian sweet prepared especially for Ganesh Chaturthi.
Ingredients:
For the stuffing:
¼ kg coconut (grated)
¼ kg jaggery
1 ½ tbps sesame
1 tbsp ghee
For Modak covering
Maida 400 gm
3 tbps oil
Salt to taste
Method:
Make soft dough of the flour by adding oil and salt.
Heat ghee in a vessel; add jaggery, coconut and sesame seeds. Keep stirring continuously on medium flame. The jaggery dissolves and a sticky solution is formed. Leave it to cool for 30 minutes.
Make small balls of dough and roll it, let the diameter be 3-4 inches.
Put 1 tbsp of the above stuffing in the dough and pack it by taking all the corners up giving it a shape like a cone on top. This is called modak.
Take oil in a kadai and deep fry the Modaks till brown.  Serve it hot or cold.
Puran Poli
Ingredients:
For the filling:
1 cup tuvar dal
1 cup sugar
A few strands of saffron
½ teaspoon cardamom powder (elaichi)
¼ teaspoon nutmeg powder (jaiphal)
A pinch of mace powder (javantri)
2 tablespoons ghee
For the dough:
2 cups whole wheat flour
2 tablespoons oil
For the serving:  Ghee
Method:
For the filling:
1. Wash and pressure cook the dal in 1 ½ cups of water.
2. Drain any excess water and keep aside.
3. Heat the ghee in a pan; add the dal and sugar and cook till the mixture thickens, stirring continuously.
4. Dissolve the saffron in a little water by rubbing.
5. Add the cardamom and nutmeg powders, mace powder, saffron liquid and mix well.
6. Cool, divide into 12 to 15 portions and keep aside.
For the dough:
1. Combine the flour and oil and knead into a soft dough using water.
2. Divide into 12 to 15 portions and keep aside.
How to proceed:
1. Roll out one portion of the dough into a three inch diameter circle.
2. Place a portion of the filling mixture and fold the edges of the dough over the     filling.
3. Pinch the edges together to seal the filling in.
4. Flatten the dough and roll again into a four inch diameter circle.
5. Cook on a tava over a medium flame till golden brown in colour on both sides.
6. Repeat for the remaining dough and filling.
7. Smear with ghee and serve hot.
Milk Cake
A rich cake made with thickened milk.
Ingredients:
2 liters full fat milk
¼ teaspoon alum
100 grams sugar
40 grams ghee
For the garnish:
5 almonds, slivered
Whipped cream
Method:
1. Pour the milk in a heavy bottomed non-stick pan and bring to a boil.
2. Add the alum and mix well.
3. Simmer till the milk reduces to half, stirring continuously.
4. Add the sugar and increase the flame stirring continuously, till the sugar has dissolved.
5. The mixture may appear curdled, but continue to simmer and stir till it thickens and resembles khova.
6. Keep stirring on a high flame till all the liquid evaporates.
7. Add the ghee and mix well.
8. Meanwhile, grease an 8 inch diameter cake tin and decorate the base with the slivered almonds.
9. Pour the hot milk cake mixture on it and cover with aluminum foil.
10. Cool to room temperature and then chill.
11. Upturn the cake onto a serving plate.
12. Garnish with whipped cream and almonds.
Amrit Peda
Mava pedas stuffed with pistachios.
Ingredients:                                   
1 cup grated khova
¼ cup powdered sugar
¼ teaspoon cardamom powder
¼ cup pistachios, blanched, peeled and chopped
A few saffron strands
For the garnish: 2 to 3 slivered pistachios
Method:
1. Combine the khova and powdered sugar in a heavy bottomed pan and cook on a low flame, while stirring continuously till the sugar dissolves and the moisture has evaporated.
2. Remove from the fire, add the cardamom powder and mix well. Allow it to cool completely.
3. Divide the mixture into two portions, 2/3 and 1/3.
4. In the 1/3 mixture, add the pistachios and mix well.
5. In the 2/3 mixture, add the saffron strands and mix well.
6. Divide the pistachio mixture into eight equal portions and shape into even sized balls.
7. Divide the saffron mixture into eight equal portions and shape into even sized balls.
8. Stuff each saffron round with the pistachio round and seal the edges completely.
9. Make designs on the peda using a toothpick.
10. Garnish with slivered pistachios.