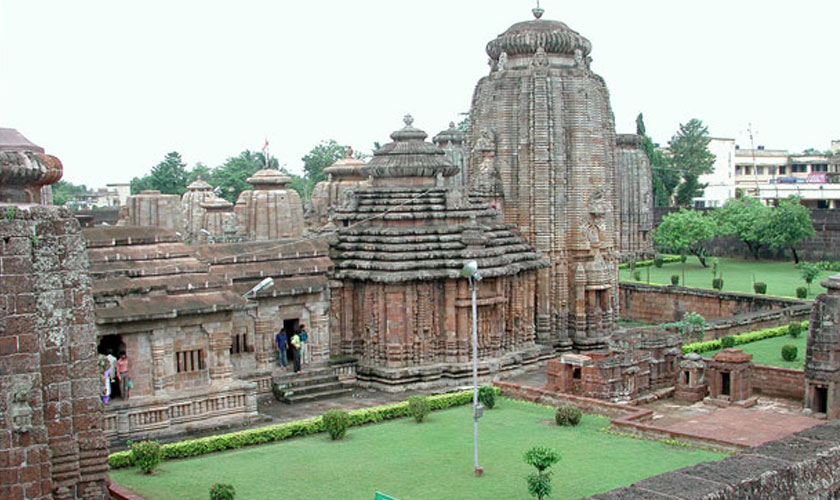 Bhubaneshwar is the capital city of Odisha and is also the city of temples. Many of these temples are important from an architectural point of view. The largest of these temples is the Lingaraj temple, which is an outstanding specimen of the Odisha style of temple building. The temple is dedicated to Lord Shiva and enshrines a 55-metre-tall statue of his made of granite. The temple has four components – vimana (structure containing the sanctum), jagamohana (assembly hall), natamandira (festival hall) and bhoga-mandapa (hall of offerings) – each one taller than the earlier one. The lofty walls of the temple are constructed using solid red sandstone, lending it the look of a fortress, from the exterior.
This is an eleventh century shrine, devoted to the worship of Harihara (a combined form of Vishnu and Shiva) in the form of a Linga and His consort Bhubaneshvari. The Deity is also known as Tribhuvaneshvara (or Bhubaneshvara), the Lord of the three worlds.
A multitude of temples are situated around the Bindusagar lake in Bhubaneshwar.  The Lingaraja temple is located in an expansive courtyard covering over 250000 square feet and is surrounded by fortified walls. Its tower rises up to 180 feet with elaborate carvings.
The Shiva linga which is 8 feet in diameter is at the sanctum of the Lingaraja temple.  The linga is bathed daily with water, milk and bhang (marijuana). To the northwest of the courtyard is the Bhagawati temple. The thirteenth century tradition of providing meals to 51 priests and 51 underprivileged persons everyday continues even now. Several other shrines and temples dot this vast courtyard.
Every year, the Deity of Lingaraja is taken in a procession to the Jalamandir in the center of the Bindusagara lake.
Bhubaneshwar is sixty kilometres from Puri and there are several trains and buses from Puri.