As ISKCON Bangalore gets ready to celebrate its annual Sri Sri Krishna Balarama Ratha Yatra on January 25, 2020, let us cherish the fond memories of Ratha Yatra over the years.
Sri Sri Krishna Balarama Ratha Yatra was first held in December 1985. Please read a vivid account of the first Ratha Yatra narrated by one of the participants. Since then, it has been an incredible journey of thirty-four joyful and vibrant celebrations every year in the streets of Bengaluru. The festival stands out for its uniqueness, for it is only during this occasion that The Supreme Lords Sri Sri Krishna Balarama ride out of Their abode at Hare Krishna Hill, to meet the residents of Bengaluru on the streets and the gates of the city's residents, giving Darshan to even those who don't come to see them at the Temple. This festival is an opportunity to engage in the special service of the Lord, not just for the ISKCON Temple's full-time missionaries, life members and the devotees of the congregation, but also the common man in the street, who gets a chance to pull the Chariot of the Lord.
Let's relive ISKCON Bangalore's Ratha Yatra over the passage of time…
Ratha Yatra in 2002
Ratha Yatra in 2003
Ratha Yatra in 2004
Ratha Yatra in 2006
Music is divine when played for the satisfaction of The Lord! Gatti Mela for Sri Sri Krishna Balarama!
Ratha Yatra in 2008
Ratha Yatra in 2010
Ratha Yatra in 2012
Enthusiastic Ladies decorate the street with Rangolis to receive Their beloved Krishna Balarama
Ratha Yatra in 2016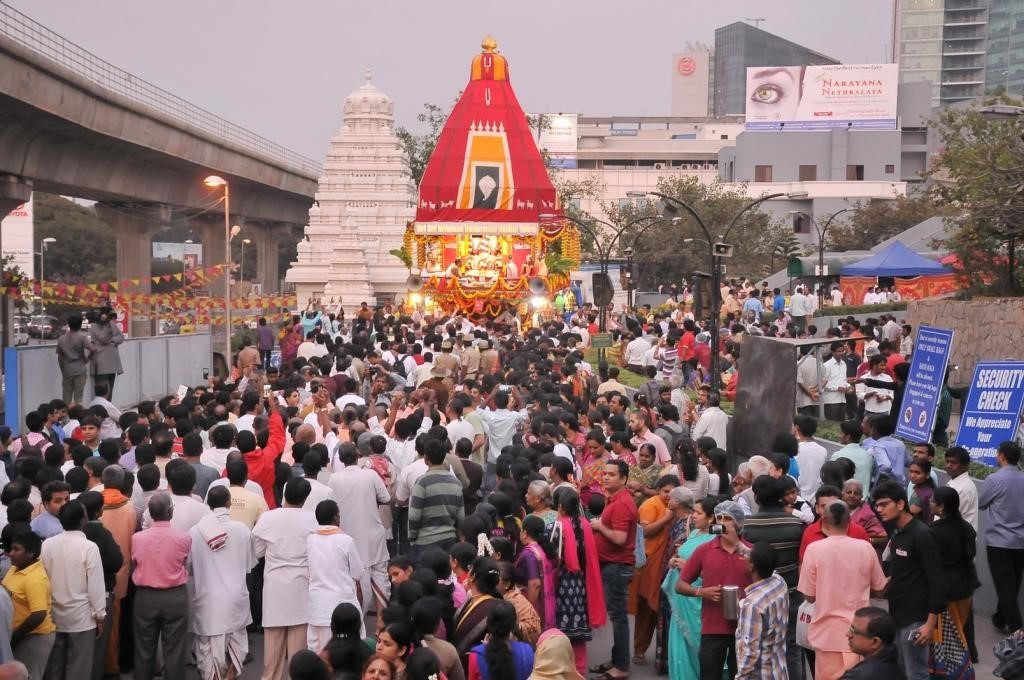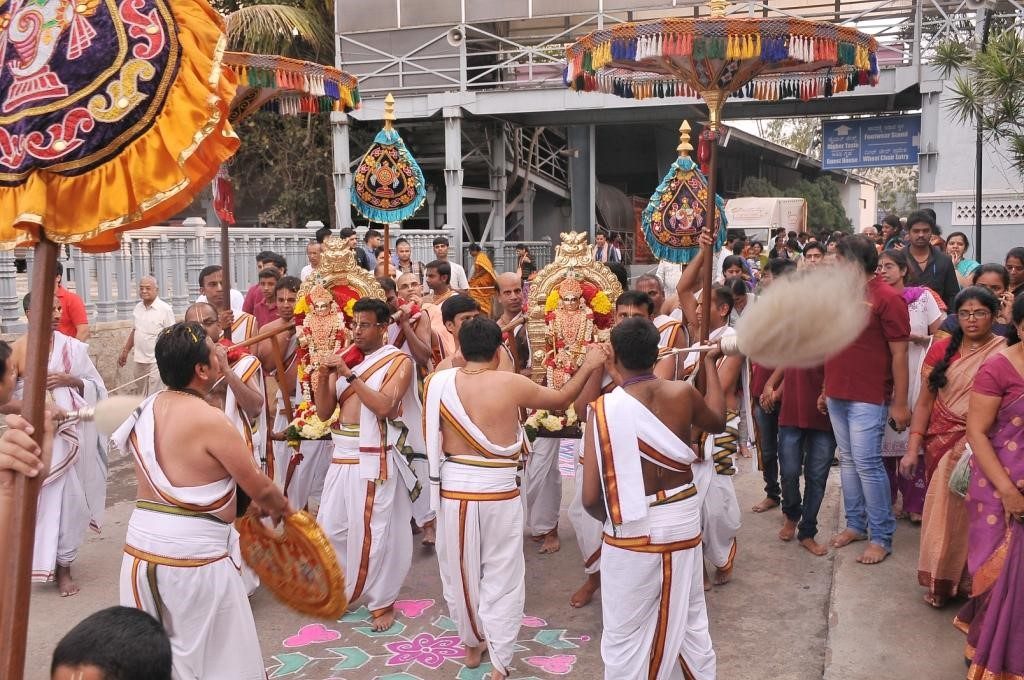 The Brothers arrive in Pallakki to ascend the Ratha
Honourable Dignitaries address the gathering at the inaugural ceremony
Ratha Yatra in 2018
The festival of Ratha Yatra gives the devotees an opportunity to engage in varieties of devotional services, such as sravanam: hearing, kirtanam: chanting, arcanam: worshipping the Lord, vandanam: offering obeisances, dasyam: rendering menial services, and of course honouring Krishna Prasadam: food offered to the Lord.
Ratha Yatra in 2019
In the year gone by, ISKCON Bangalore celebrated its 34th annual Sri Sri Krishna Balarama Ratha Yatra on January 19, 2019 with enchanting kirtans and large-scale prasadam distribution all along the procession route.
We cordially invite you to join us in this year's festivities.
Celebrations start with the inaugural ceremony at 4:00 pm
Come, pull the chariot…