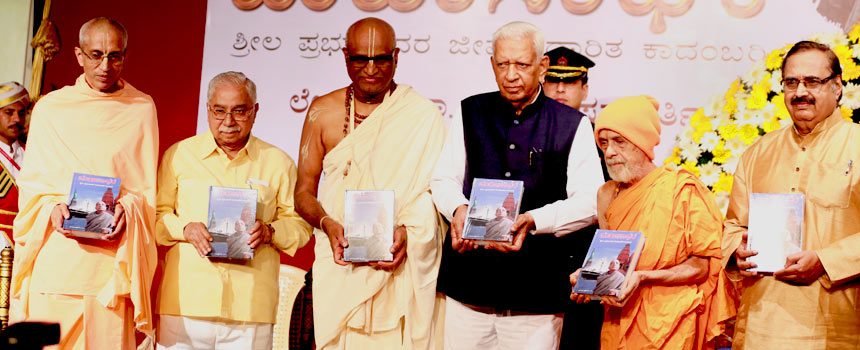 His Excellency Sri Vajubhai Rudabhai Vala, Governor of Karnataka released Mahasadhaka, a book in Kannada – a biography on the sublime life of His Divine Grace A.C. Bhaktivedanta Swami Prabhupada (Founder-Acharya of International Society for Krishna Consciousness) on September 27, 2015 at Hare Krishna Hill, Bengaluru.
Governor Vajubhai Vala attributed the deterioration in societal values to the lack of religious feelings among people. Speaking after releasing Mahasadhaka, he said, "It is time to cultivate religious feelings in oneself. At the same time, it is also essential to let go of blind faith. This will help alleviate the degenerating situation in the society today. The present education can give only technical knowledge but it doesn't teach any samskara." He mentioned different qualities like satya, ahimsa, aparigraha, etc., which are the key features of Indian culture. He pointed out that our heart can be transformed by reading books like Mahasadhaka and associating with saintly persons. Glorifying the Bhagavad-gita, he said there is no other book in the world, comparable to it.
His Holiness Sri Sri Vishwesha Tirtha Swamiji of Pejawar Math and Sri Madhu Pandit Dasa, President, ISKCON Bangalore graced the occasion. Dr. Chandrashekhara Kambara, a well-known writer and Jnanpith awardee was the Guest of Honour.
The book release event was held to coincide with the 50th anniversary of Srila Prabhupada's travelling to the West on the order of his spiritual master to propagate the teachings and glories of Lord Krishna.
This book is written in an interesting manner by Dr. Babu Krishnamurthy, an eminent author of several Kannada books. Mahasadhaka gives us glimpses of Srila Prabhupada's life in India before his voyage to the West on his mission and the years he spent all over the world spreading the teachings of Krishna and the practice of devotional service. It is the story of one of the greatest spiritual leaders of our time.
Sri Stoka Krishna Dasa, Vice President of the temple, in his welcome address gave a brief introduction of Srila Prabhupada and his accomplishments.
Speaking on the occasion, the author, Dr. Babu Krishnamurthy expressed his great happiness at having worked on the biography of Srila Prabhupada saying that it was the greatest and most marvelous moments in his life.
Dr. Chandrashekhara Kambara recounted the times when he interacted with Allen Ginsberg in Calcutta. Allen was one among the hippies and he came in touch with Srila Prabhupada during the early days of the Hare Krishna Movement in America. It was a great surprise for Dr. Kambara to learn that even the hippies engaged in chanting the names of Krishna during those days. He said that Srila Prabhupada brought in a transformation in their lives.
Sri Madhu Pandit Dasa spoke about the humility of Srila Prabhupada and said that he never promoted himself anywhere. Instead he was promoting Krishna's name. Today people have heard more of ISKCON than Srila Prabhupada. He read out the English translation of Srila Prabhupada's poem written at the time of his arrival in America expressing his heartfelt desire to change the consciousness of the Americans. He said that Srila Prabhupada is truly an ambassador of Lord Krishna from the spiritual world and that Mahasadhaka is offered to him as a token of honor and appreciation.
His Holiness Sri Sri Vishwesha Tirtha Swamiji quoted a verse by Sri Chaitanya Mahaprabhu on the qualities of being humble, tolerant and devoid of false prestige. He glorified Srila Prabhupada as a great saint who caused a revolution in bhakti. He said that Krishna attracts everyone and even the earth has this quality of attracting everything towards it. But the difference is that the earth attracts everything downwards whereas Krishna attracts upwards.
The event concluded with a vote of thanks by the temple Vice President Sri Vasudev Keshav Dasa.