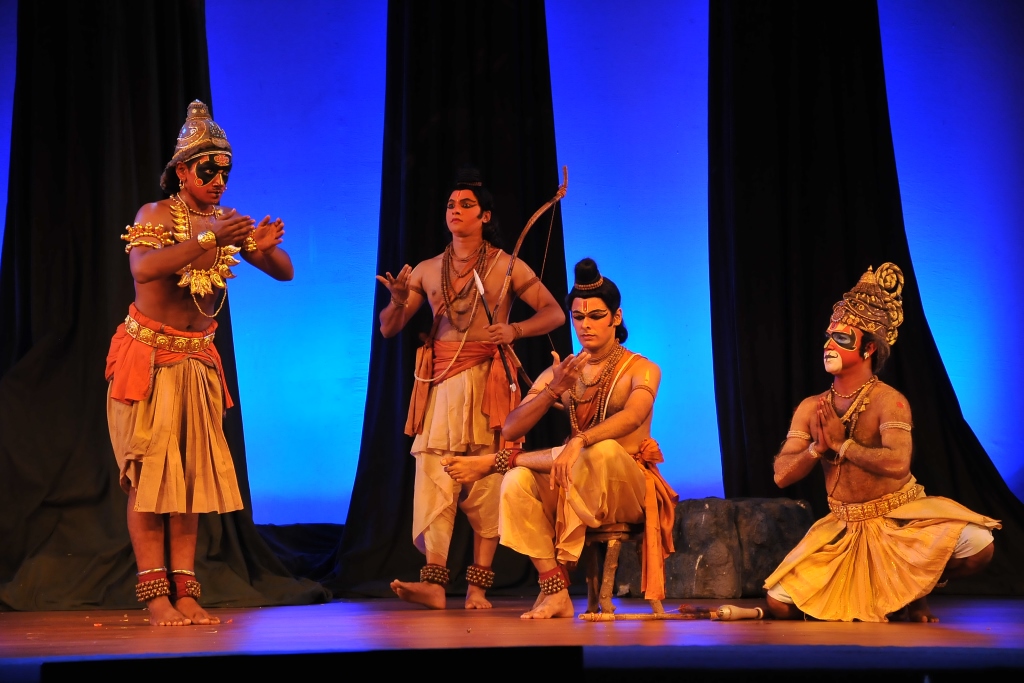 (Above) Rama, Lakshmana and Hanuman discuss on how to bring Sita back from Lanka
The famed Kalakshetra team from Chennai conducted a unique dance drama festival at ISKCON Bangalore from September 25 to 30, 2016. The six episodes of Rukmini Devi Arundale's (founder of Kalakshetra Foundation) Ramayana were presented by the director of Kalakshetra, Priyadarshini Govind, and her 55-member strong troupe, including the cast and crew.
Priyadarshini Govind revealed that it had taken Rukmini Arundale 14 years of hard work to choreograph the entire sequence. "Rukmini Devi presented the first episode in 1956 and subsequently completed all the episodes," Priyadarshini added.
The six episodes were – Sita Swayamvaram, Sri Ramam Vanagamanam, Paduka Pattabhishekam, Sabari Moksham, Choodamani Pradanam and Maha Pattabhishekam. Each episode lasted for about two and a half hours and the stage decorations were impressive along with melodious music, lyrical poetry and dance, exemplifying nritta and abhinaya.
Chameri Devi Dasi, cultural coordinator at ISKCON said, "The last time this six-part dance-drama came to the city was ten years ago, as the opener for ISKCON's Sri Krishna Shringar festival. In the subsequent years, artistes of Kalakshetra Foundation staged Valmiki's version of the Ramayana here, but never from the start to finish. Paduka Pattabhishekam, Sabari Moksham, and Choodamani Pradanam were performed as stand-alone episodes."