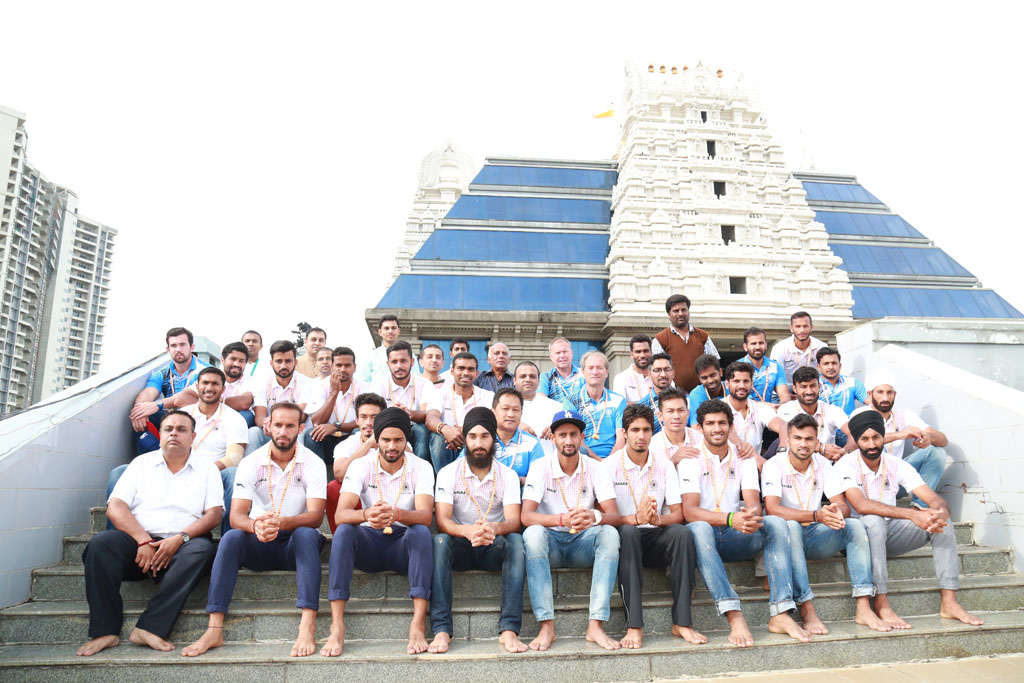 Bengaluru July 20, 2016: Ahead of the Rio Olympics, the Indian Hockey team came to the temple to seek the blessings of Sri Sri Radha Krishnachandra.
The team spent time at the temple and witnessed a special arati and honored prasadam before departing to participate in the Olympic Games due to take place in Rio de Janeiro, Brazil, from 5 to 21 August 2016.
Addressing the team, His Grace Chanchalapathi Dasa, Senior Vice-President of ISKCON Bangalore, said, "It is indeed a great pleasure to have the Indian Hockey team in our temple today to seek the Lord's blessings", and wished the team good luck and success at the Rio Olympics.
The team has been in Bengaluru for the last six months, practicing and bonding with each other under the guidance of the Head Coach Roelant Oltmans, along with Team Captain Sreejesh Ravindran and Vice-Captain Sunil.
When asked how he felt during his temple visit, Mr. Roelant Oltmans said, "This is really an impressive temple. It is beautiful and it also has a clear philosophy behind it and that combination makes it absolutely worthwhile to visit for everyone."
Captain Sreejesh said, "As an Indian, I am very happy to be here today at the ISKCON temple. I always visit Krishna temples and I am devoted to Guruvayurappan. Visiting this holy place, we can feel that now we have done our work on the field and God will support us in the crucial moment. I believe this visit will help us to get that positive inspiration from God and it will lead us to a wonderful way in the Rio Olympics as well."